Boy doesn't time fly. It only seems a few days ago (weeks really!) I got here and already I'm packing again to head back to the UK on the Capo. Other than a check over, the Capo's as she came back – unwashed even.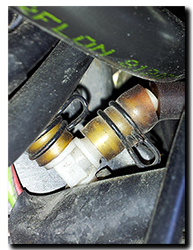 But this morning, with only a couple of days to go, events took a turn for the worse. Off we went for a little run around and suddenly, out of the blue, she's running rough at idle …. Cough, cough, snuffle and splutter. In all honesty, only one thing came to mind – vacuum pipes.
Anyway it didn't spoil the day and we got home with no drama (she ran fine at higher rpm) and 15 minutes later the tank was lifted … and here's the culprit. One split vacuum hose on the front cylinder. So for now a generic bit of fish-tank plastic line has been press-ganged into service and a couple of nice new silicone hoses have been ordered of Ebay – one blue, one red. Colour coded vac pipes for each cylinder!
After 12 years and with almost 80,000 miles now on the clock I guess it's probably a job that was getting towards the top of the to-do list!