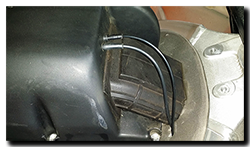 Yesterday I spent a lazy morning installing a couple of sensors inside the airbox (more in another post) and with the tank propped back in place, fired the Capo up to check the fuel lines…….
…… and just for a second or so after she fired up there was a distinct rattle from the rear cylinder and frankly it didn't sound too special as the bike warmed up. To be honest, I'd heard it before on a couple of occasions but couldn't pin down which cylinder it was. With the tank lifted and stood in just the right position, it was obviously the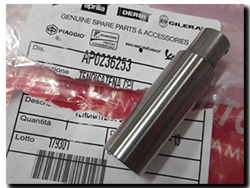 rear. As it was lunch time, I decided to have a look a bit later – and promptly forgot! Well I got back to it in the evening and pulled the cam chain tensioner out. Soggy as a knackered bed spring! 🙁
So it had a thorough flush out and re-charge with fresh 15/50w oil and firmed up nicely (phew!) …. it looked as though contamination had built up in/around the ball that seals the oil in, in this case letting it out just as easy. Buttoned it all back together, fired the motor into life and revelled in a quiet(ish) Capo motor – just in time for a cold beer and MotoGP on the box, bliss! As I sat watching the race I kept having a niggling thought … what if the front one is the same?
Tomorrow feels like a let's-check-the-front-one day ……….. 😕