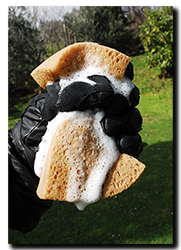 In the flush of youth I was the same as most fledgling bikers I guess, spending endless hours cleaning my bike with mates over a cold beer and loud music  ….. of course all that changed when riding a bike became a job five or six days a week. Washing the bike turned into a chore, something to be endured not enjoyed through endless ice-cold winter weeks, honed into a slick process to illicit the most benefit from the least input.
A working bike, one you put food on the table with ….. has to be as reliable and resistant to the degradation by the elements as is possible. To that end I've lived by the mantra of checking a bike over daily ….. battery, bearings, chain, electrics, suspension, steering, tyres  etc …. there are numerous mnemonics kicking around to work with. Washing the bike was just as much a way of helping do those checks as it was presenting a clean bike to the world at large and sailing under the radar of bored Metropolitan Police officers, whose sole existence appeared to center around the idea that any dirty motorbike was undoubtably an illegal one.
Yes it's fair to say that cleaning a bike for me has long since lost any interest, it is simply a means to an end …. jetwash the main muck (avoid bearings and seals), hose pipe and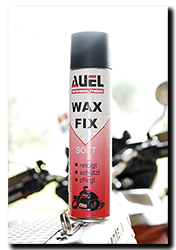 bucket of sudsy-wudsy car shampoo and rinse off. Air line some bits and chamois the others ….. then coat liberally with ACF50, either sprayed directly or wiped on with a soft clean cloth. Total time, less than 30 mins or I'm slacking. This method has stood me in good stead for many a year – and let's face it, snake-oil cleaners come and go, just like gimmicky brushes or wonder sponges.
That of course was until Manuel from Motrag stuck his oar in! He's tried for ages to convince me about this amazing product he uses – in fact he says he hasn't actually washed his bike since Moses was a little boy. Instead he uses 'Auel Wax Fix Soft' – wipe on, wipe off ( no silly Karate Kid impersonations please)….. and when he recently sent some dashboards for repair, he snuck a can in the box to try out. Hmmmmmm.
So yesterday, I took a notion into my old numb-skull to give it a go on the Capo windscreen. Spray on, wait 30 seconds, wipe off ….and …………….. JEEZ! This stuff actually works!!!
Residual bug splat going back years just wiped away – over 95% of it. The other 5% just took a second spray/wipe. So out came the hex-key, off with the windscreen and I did the inside as well, no smears, no waxy (forget the misleading name on the can) residue, no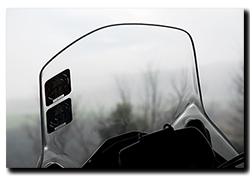 apparent static build up either. Just one unbelievably clean windscreen, so much so, that I can see the stone chip damage that once hid among all manner of splattered bug guts. Afterwards I tried it on mirrors, hand guards and panniers …. anywhere buggy-bits accumulate. excellent results every time.
Manuel tells me he's been using this stuff since 1996 and I can see why. No, it won't re-write how I clean my bike, but I think an extra 5 minutes tagged on using Wax Fix isn't going to break the time-bank either. The downside seems to be getting hold of it ….. Ebay has a couple of suppliers (approx €10-€13 a can) – not cheap, but Manuel says a can does go a long way when you get used to using it. Hopefully he'll be able to supply it through Motrag in the future.
Meanwhile all these smooth and polished surfaces must be worth an extra 5mph! 😀