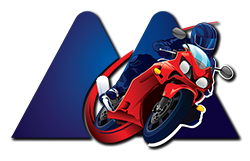 Let me start by saying that as of now, the cruise control project I've been working on has been put on hold indefinitely ………. why?
A couple of weeks ago I contacted MCCruise in Australia about buying a couple of parts to make my own cruise control install go a little easier – off the shelf stuff, not impossible to do myself, but just easier to purchase rather than make. After a lengthy phone call with Tony Guymer, I was convinced to take an in-depth look at the new electric servo kit* with the view to fitting it to the Capo. Unfortunately, of the current 120+ kits they make, none are for Aprilia. I'd have to start with a universal kit.
Now I'll say loud and clear, here and now …… I'm not keen on the word 'universal'. So the idea of a universal kit just doesn't do it for me at all and that goes for a cruise control. Maybe it's just me, but I hate the one-size-fits-all approach to anything, they never quite look right, not factory-fit enough for me I guess. No, it has to be a bespoke kit to fit the Capo and this is where Tony eventually sold me on the idea.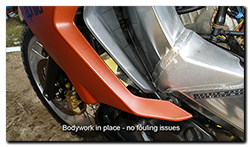 Tony suggested that if I were to get some data from the Capo – measurements, connector types and locations, wiring routes and mounting places for the main units, then between us we could map out a bespoke fitment kit, a kit as close to plug'n play as is possible. Now I like that idea and being able to get involved is the icing on the techie cake for me!
So last week the Capo was stripped …… dozens of photographs, pages of notes and CAD plans for mounting brackets were compiled and sent to the MCCruise in-tray. After a few quick techie emails back and forth, Tony gave the green light on the kit and as you read this it should be working its way across the planet to little old me!  😀
I just hope that after all this time, effort and expense my wobbly-wrist appreciates it! 😉
At the end of the day, they need to sell 10+ kits for it to be viable for them, so to offer a helping hand I'm hoping to have something to show at ACIM in a few weeks time and I'll also stick a few flyers on the bike when its parked up to nudge a bit of interest.
*Tech details in Pt2. / **Fitment details in Pt2. as well, kind of a Pt2+ I suppose!