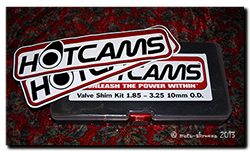 It took the best part of three weeks for the valve shim kit to arrive from the USA ….. and I think that's rather good, considering the surge of Christmas post whizzing around the world, not to mention the holidays themselves getting in the way.
I'd ordered a Hotcams (SHIM-31) 10mm  shim kit (thickness range: 1.85-3.25mm) that's sold for the HD V-Rod and Buell 1125, but has a whole bunch of shim sizes in it that suit the Capo, or any V990 motor just fine.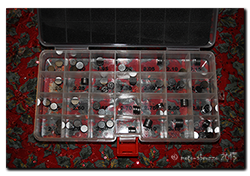 The V990 engine uses shim sizes from 2.3-3.0mm in 0.025mm increments, so quite a few of the Hotcams kit are redundant, not only that, the kit only contains shims in xx.000mm or xx.050mm sizes, not the xx.025mm and xx.075mm that may be needed. Now this may appear to make the kit a rather poor choice, but look again at what you do get for your money when compared to the shims an Aprilia dealership/stockist will sell you.
So let's compare ……..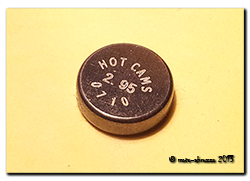 Hotcams Shim Kit – delivered to Italy was $82.35 / £49.94 / €59.73 including customs duty & taxes. That's 15 usable shim sizes (x 3 each) and works out at approximately $1.83 / £1.11 /€1.33 per shim. Now compare that with genuine shims from AF1 in the USA – $14.99 each*, or Ultimate Parts in the UK – £9.15-£12.85 each all of course with package and posting on top. I think it's fair to say that if 50% of the shims are on hand for around 10% of the Aprilia list price …. well I can live with that!
*AF1 do sell a shim kit and it may well be the same one that Hotcams sell. Certainly the range of shims is identical – as is the box by the pictures on the website. Why didn't I buy from them? Simply price, at $75.99 + $40 shipping, they weren't even close to Ebay stockist Powersportsplus.