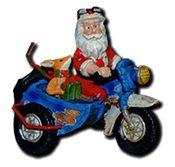 I'll start off by wishing you all a hearty Merry Christmas and a very happy New Year wherever you are on this wonderful globe of ours. For the Capo and I, it's proving to be an extra special one this year, with Santa dropping off a few extra goodies for the riding-year ahead.
The dashboard has been especially good, and so merits the star prize of a new OEM quality inlay with all the new graphics in place. So as I write, the old one is on its way to Lockwood International Ltd in the UK to act as a template,  meanwhile the plastic chassis has been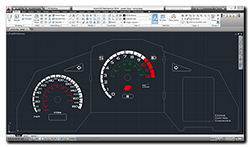 cleaned and preped ready for the big day. Like a kid on Christmas morning, I'm all on edge – and I've got to wait at least three or four more weeks yet before it's installed!!
Probably the most needed bits are for the (very) overdue service. Yes folks, I'm hanging my head in shame as I admit that the Capo's mileage overran a tad ……. a couple of thousand tads give-or-take! Now I'm waiting for a few packages to arrive for this truly international service to take place – Hiflo HF564 oil filters and 'O' rings from the UK, Hotcams valve shims from the USA, Athena air filters from Germany and 15w50 engine oil from Italy. Cosmopolitan or what!
That just leaves the parcels snuggling together under the tree …… a Shoi Neotec or a pair of socks? Slippers or a slipper clutch? Hmmm ….. roll on tomorrow!! 😉