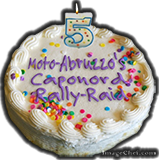 Today, the Capo and I have been together longer than any other bike I've owned. On a chilly but bright afternoon five years ago to the day, the Capo pulled up outside the house in Oxford and so began our unbreakable relationship.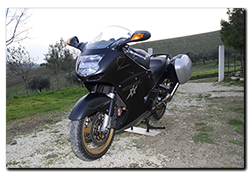 In October 2007 I'd ridden my Honda Blackbird over to Italy and whilst I enjoyed running around the mountains, it was increasingly obvious that it was a proverbial fish out of water in this terrain. I needed something like my old BMW R1150GS Adventure again …… and funds most definitely were NOT available for that kind of purchase!
No, the B-Bird had to go and whatever I bought would have to come out of that money. So I racked my feeble brain to try and come up with a viable alternative. It ended up between the Triumph Tiger 955i and the Aprilia Caponord ETV1000. I remembered seeing a Caponord when Motorcycle City collapsed and were rapidly flogging off stock at their Reading branch. One solitary silver Caponord had sat among a sea of discarded cardboard boxes and brochures as the place was stripped. I remember spending some time looking around it, wondering if I could get the £5K asking price together before the doors finally closed in a few hours time. It never happened of course, but the Caponord left a good impression …. I liked it. So I started searching, second-hand prices certainly seemed favourable and throughout the winter of 2007/08 I kept looking.
Meanwhile, I'd come across a post on an obscure motorcycle forum where someone mentioned that they had a 'Rally-Raid' version for sale. The thread was several months old and no responses had been posted – I'd give it a go I decided. So I registered and sent the guy a message and waited ………
Photographs emailed to me by the seller in January 2008
A few days later a reply email arrived. The long and the short of it was that yes, the bike was still for sale. currently it resided in Lyon (South France), was UK registered and had covered less than 1,800 miles and no extras or accessories had been added since it was purchased in Lincoln. Only the front fork recall had been done at the 600 miles shake-down service, then it was shipped out of the UK.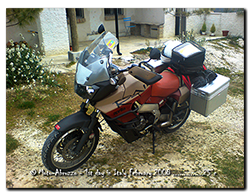 Photographs were sent (above) and a deal was struck. I'd ride the B-Bird back to the UK and the Caponord would be delivered about a week later. In the end, everything went like clockwork. On the 20th February 2008, a Wednesday afternoon, the deal was done. The next morning the Insurance, MOT and road tax were sorted and 12 hours later we were winging our way back to Italy through a nippy (-12c) Switzerland.
And so it's now 5 years on. One sidestand switch, one Sagem coil, a set of front wheel bearings and 65K more on the clock since the journey started. A few shiny trinkets and several practical upgrades make sure it stays as reliable and enjoyable now as it has always been. But has it been worthwhile?
Some photos 2008 – 2013
As the dog on the telly says – oh yes! Overall the Caponord has been as reliable, if not more-so than most other bikes I've owned. It's a wonderfully agile mountain goat on the twisty Gran Sasso mountain play ground and a supremely comfortable and quick workhorse on the 24hr mad-dash pan-European jaunts back home. Certain things are starting to show their age, handle bar grip rubbers and saddles that will need recovering within the year – but the overall finish is still good and the stainless fasteners and alloy frame still twinkle in the sun.
On the 5th September the Capo will have its 10th birthday ( of registration) to celebrate and maybe a surprise or two as well! 😉
Ciao fer now – KarlB