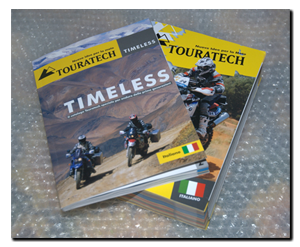 The new 2011 Touratech catalogue turned up yesterday – well both of them actually. The main phone-directory tome (all 1,219 pages) and the positively sylph like 'Timeless' catalogue for "Enduros of the first generation"…. no doubt sporting a nice line in aluminium false-teeth containers and enduro incontinence pants!
Well I thumbed through both … then thumbed again. Oh dear, it appears the Caponord no longer gets its own chapter. In fact its accessories are relegated to a chapter called 'Travel Enduros' …. us and the Triumph Tiger 955i. No longer worthy of our own pages we've shifted sideways to the Twilight Zone pending a place in the 'Timeless' catalogue of 2013 no doubt. Or are we destined to be wiped from the accessories catalogues for good?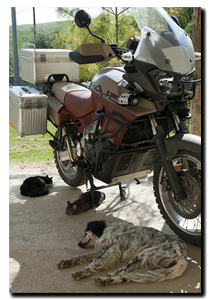 Some bikes of course become the darlings of the media, some the riding public – and some are  a hit with both. The Capo though, slipped through the net. Neither loved or hated by the press and frankly let down by Aprilia themselves by virtue of a poor dealer network, hardly the stuff that attracts hard earned dosh to swap sweaty palms. The public hardly got to see one, let alone try it … so the Capo came and went … and wasn't missed with its passing. That, frankly, is tragic.
Oh well, mine still makes for a nice bit of shade ……