Another couple of ticks of the great celestial clock will see the Capo and I celebrating our third anniversary. Something of a miracle, as over the years my bikes have averaged about 12 months each. In fact the Capo now equals the previous record holder – the Triumph Trophy 1200 and will no doubt storm on ahead to claim the crown.
So why have I kept it so long? Well, truthfully, a few reasons …. moving to Italy and a change in lifestyle for one. Secondly, riding motorbikes was no longer to be my source of daily income, but mostly because it's a damn good all-round machine that suits my riding style at this time in my life.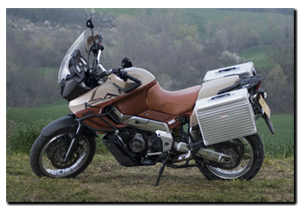 By sheer luck I heard about an RR languishing in a garage in Southern France, UK-registered and unbelievably low mileage. Contact was made, photographs were emailed and finally on a dismal day at the dawn of 2008, I said goodbye to the Blackbird and stood freezing my nuts off admiring the RR, freshly delivered from Lyon to Oxford. Within 24 hours we were  off the ferry and tanking down through France together, panniers fit to burst and a spare pair of tyres strapped on for good measure …. this was most certainly going to be a make-or-break relationship.
Well of course we bonded … and three years and over 30K later I can't see me  changing  it just yet. Simply put, the Capo works fantastically as a luggage toting motorway mile-muncher and even better on the mountain  roads where its flexibility and torque by the bucket give me all the fun I can handle. And yes, there's no getting away from the fact that it tips the scales at a knee trembling 250Kg … but it's still surprisingly usable off-road, like anything, you just have to get used to it!

I'd like to end by saying that in today's world, the internet plays its part in the 'ownership package', and on that point the support and friendship of the AF1 Caponord forum is second to none … if you're in the market for a Capo,  don't read the rag-mags, or listen to anecdotal "I had a mate who…..", visit the forum and get genuine first hand info. Some of these guys have topped 100,000 miles!
So what's 2011 going to bring …. maybe a trip back to the UK, but the jewel in the crown looks like it might be the ACIM Caponord International meeting in Portugal. If it all comes together, we'll overnight in Barcelona on the way and maybe, just maybe, we can rumble into the Gothic Quarter and quaff an ice cold beer at Bar del Pi ….. bliss!!!