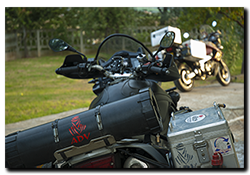 Heart pounding fit to burst with sweat dribbling off my chin, I got to wondering quite how I got here. Between wheezing gulps of air I figured there were most definitely better things to be doing, and places to do them. To add a little spice to events, a Carabinieri (police) car had pulled up alongside and they watched mesmerised as I huffed and puffed behind Mike's Caponord as we tried to bump start it on a three lane exit from the motorway!
Mike had rung that morning from Trieste and asked if he could pop in for a brew and a chat …. no problem matey. You nibble away at the 680Km and I'll pop the kettle on. I arranged to meet Mike at the Giulianova exit from the A14 Autostrada and everything went tickety-boo until his battery fell off the proverbial perch just as he go to the exit toll booth – a paltry 50m or so from where I stood waiting.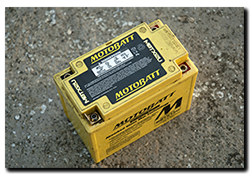 So here we are at seven thirty in the evening with two Capo's stripped while we try to jump start Mike's bike. After a couple of false starts we get it running, but he can't use the lights so he follows me home glued to my tail. The poor thing has a battery voltage of 11v and a total lack of charging system. 24hrs later we had the Capo up and running again no problem. A new battery, 30A fuse and a quick tinkle with his mapping has the Capo purring like a fine Swiss watch. We decided that the next day would be a 'test' day in the Gran Sasso mountains.

In the end the 'test' covered about 220km and re-established Mike's confidence in the Capo's abilities; considering he's 10 days into a 5 week trip that puts him in Barcelona next week and Morocco a few days later, he needs to have 100% trust in his bike. Although the low cloud was broody and the stiff wind on the chilly side, we had a great day. We even managed a coffee at Castel del Monte and a chat with a group of BMW GS riding Germans!
This morning Mike strapped the last bag into place and burbled off to new adventures. I watch him as he disappears out of sight, finishing my brew and feeling a little sad. I wish I was going as well. Mike called tonight from Civitavecchia, safe and sound as he waits for the ferry to Barcelona, good luck Mike have a brilliant time, keep the camera rolling …..and don't forget to send a postcard!