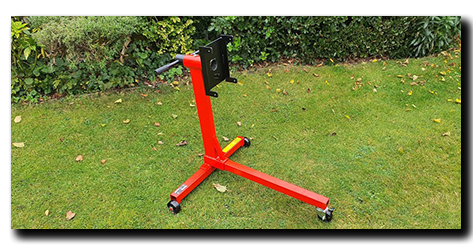 It seems that over the years several Caponord and other bike/car related websites have ported themselves over to Facebook – such that I eventually capitulated and joined, albeit in a totally locked down way. And of course over those years I've been inundated with zillions of worthless adverts ….. until now. One has proved very worthwhile indeed!
More specifically – JB Fabrications – who were advertising an engine mount adapter specifically for the V990 engine. At £48.45 including postage I was in. Working on a lump like the V990 on a workbench (or the floor!) is a real pain -literally! I've spent more time than I care to recollect having to drop tools mid-job simply because my back has tweaked up because of the awkward position I'm working in. This adapter will apparently work with Clarke and Sealy engine mount stands – I chose the Clarke CE340, which can handle engines up to 340Kg (V990 = 65Kg). This stand allows the engine to be rotated 360º and locked off at 45º increments.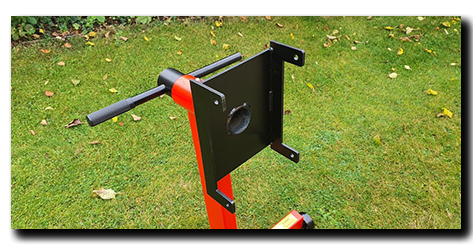 The adapter only took a few days to arrive. It was well packaged and the paint finish and welding all appear to be decent quality. The engine stand took a few days longer to arrive, but to be fair it was ordered later! Assembly took about 30 minutes with a crafty tea-break thrown in. This of course, is all well and good …. however the engine has to be lifted about 1.5m into the air to get it into the adapter, and that's no easy task at nearly 70Kg.
Thank goodness there is an electric workshop hoist to hand – rated at 150Kg/300Kg capacity. This is mounted to a cross-beam in the workshop and is more than capable of lifting the engine nicely into place, especially when using the 300Kg setting as this reduces the raise/lower speed by half – handy when trying to jiggle a bolt into position. Of course It also comes in rather useful for doing other bike related tasks as well!