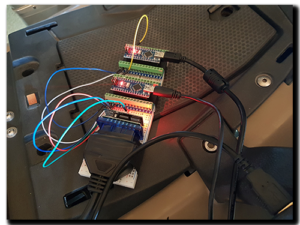 It has been a long time coming … and I mean a looooong time. Think a decade! Back before we had TuneECU a few Capo owners pooled thoughts on how to get access to the ECU and read its contents, but we all gave up when TuneECU came along because it did it all for us – for (almost) free. Now however there is a real need for that access if the new dashboard display is to do what it is supposed to, and that has been the hurdle of hurdles to get across. If I am totally honest this problem alone was guaranteed to bring the project to a grinding halt if nothing was. So for the past few weeks, I put the display to one side and concentrated on cracking the ECU.
Well I'm not only chuffed, I am totally blown over backwards because as of this afternoon, I can finally access and interrogate the ECU independently of anyone elses equipment or software – ECU serial number, map number and all the sensor parameters plus self test functions and TPS reset! I've still got work to do interpreting some of the data, but that is not such a big issue and should be finished tomorrow.
Tonight though, I think a cold beer or two are in order!