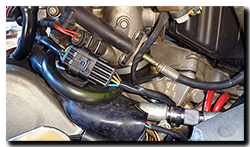 I finally got around to changing out the open-to-air 4-way connector that feeds the fuel pump and fuel level sensor. In went a nice 4-way Superseal (14A rated) with the connectors crimped, soldered and given a light coat of dielectric grease before sliding home into the waterproof housing.
Hopefully no more erratic fuel level due to oxidation on the pins! While I was at it I pulled the spare fuel pump harness (AP8124664) out of its bag and changed its connector as well. I'd look mighty foolish if I'd pulled that out of my spares kit at the roadside and the connectors didn't match!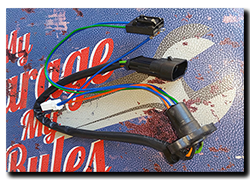 While under the hood, I noticed that the outer coat of the fuel return line (marine-grade ISO 7840 A1) is showing signs of deterioration and kinking near the swaged end at the fuel tank. I'd noticed it back in September, but unfortunately it appears to be a little worse now. Time then to order a new cLCD 170-04 1/4″ barbed quick release connector from Tom Parker (UK) along with suitable Oetiker clamps – I'll only use clamps that need to be crimped, never ones with screws that can work loose. I've no problem doing the return hoses myself, but when it comes to the high pressure side, I leave it to the professionals. Last time that was MF Hydraulics in Oxford and I'll be happy to use them again come the day.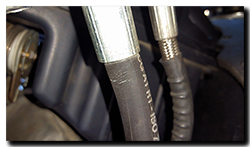 The marine hose has lasted well (9 years) and that's to be expected given that hose for marine applications has to meet very strict guidelines, however I think hose rated at SAEJ30R9 with its improved impermeability and tolerance to Ethanol is probably better suited on the Capo nowadays. Either way I wouldn't lose any sleep over it! The high pressure line and main return line are holding up just fine with no sign of wear or deterioration.