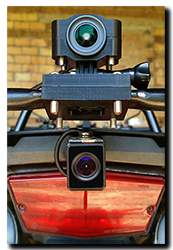 The INNOVV website has just been updated with the details of the new C5 full-HD remote head camera system. I've been beta-testing a pre-production one for a few weeks now and have to say it's a neat and waterproof system that has excellent image quality. Communication is via a smartphone app (Wi-Fi not Bluetooth) with outstanding 'live-view' ability.
It records in 1080@30fps and 720@30 & 60fps, has an internal battery for independent operation, park mode, an internal microphone and a socket for a remote microphone. The recording unit is small and lightweight and because it's waterproof, can be mounted just about anywhere on a motorcycle.
Anyway, enough for now ….. pop over to the INNOVV website for more information and later on, once I'm done beta testing I'll post up a review. At the moment I'm especially keen to see how the C5 and K1 video quality compares – day or night – so the Capo's getting plenty of use! Here is a picture of the recording unit ………… remember, this is a PRE-production model, so the one for sale may look a little different, especially the final body colour.