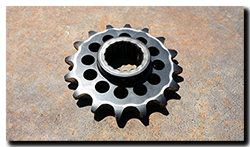 A good few year back when I had a Triumph Trophy 1200, I had an issue of excessive noise from the chain/sprockets – especially on the over-run. They were almost new and as far as I could tell, it was correctly tensioned. It drove me mad for a week or so, until I decided to try changing out the front sprocket, why I can't remember, but it worked.
Now the same issue has raised its head on the Capo. The Sunstar front sprocket was fitted at the same time as the chain/rear sprocket, so about 3,500 miles ago give or take. Gradually I began to get a noise – mostly on the over-run that progressively got louder as the miles piled up. Once again, chain tension was fine, the slipper block in perfect condition – no obvious reason for the noise. What had changed?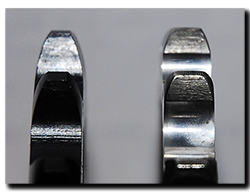 The only difference I could think of is the make of sprocket. I've always used Renthal since I got the Capo, so the Sunstar was a step away from what I know and trust. Back to a Renthal 407-525-16P it is then.
And …….. all the noise has gone! Yes a good run around yesterday afternoon including annoying the hell out of an R1200GS rider desperate to give me the slip, proved once and for all that the Sunstar was the culprit. It certainly makes me think that the profile of the teeth may well have something to do with it, maybe that's the reason Aprilia fitted a sprocket with cush-rubbers?