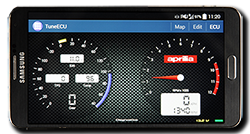 A week ago I downloaded the TuneECU Android App, spent a few minutes scrolling through the screens, then sat back and waited for Mr Postman to deliver a USB3 OTG cable for the Samsung Note 3 and a Bluetooth module from Ebay.
Here we are a whole week later and I've used the App successfully with both connection methods. Indeed the App is stable and remarkably quick and easy to set up connections and seems to take no longer than its PC sibling to communicate with the ECU. I didn't experience any drop-out when starting the engine with either method and map Read/Dowload via cable seemed on a par with my netbook. So far, so good…….
……. Now for the downside.
Those of you that have used TuneECU(PC) will be familiar with the three modules it contains – Map Edit, Diagnostics and Tests and I ask you which of these modules are likely most useful in a day-to-day situation? In my books that's the Diagnostics/Tests ….. why would I want to remap a bike from a smartphone for a start, let alone mess with mapping while out and about commuting to work or heading off for a summer jolly. Mapping is best done at Dyno time, in a workshop and let's face it, once done probably won't need revisiting for a long time, only engine/exhaust mods or ECU replacement come to mind.
So my wish list is for an App with full Diagnostics/Tests, the stuff that may well help me at the roadside, that will show me an intermittent coil when the ECU hasn't triggered the EFI light or generated a code and other information that the simple dashboard diagnostics just doesn't display.
Unfortunately it's here that the App falls flat. As much as I swiped and tapped I couldn't find a screen to show me the sensor data – Injectors, Coils, Air Temp, O2 sensor, Barometric etc . In fact the display doesn't even show me Neutral, Fan or Side-stand …. All familiar sights on the PC version. So I dropped the author Alaine an email. And this was his response.
There is no sensors page shown in the App, maybe this will be added in the future. The Fan and Side-stand lamps are not written into the software and yes there is a bug with the O2 graphic display. He hasn't come back to me yet about the missing Neutral lamp.
So that's it …. An interesting novelty App, unfortunately nothing really useful to offer as a diagnostics tool while out on the road ……. For now the cable and Bluetooth module can find a place on a shelf somewhere, while the trusted Asus notebook keeps me company with TuneECU 1.97 doing what it's always done – and doing it very well!
I'll end by saying that since the Capo was ported to TuneECU back in October 2010, I've used it extensively even though I still have TuneBoy on the netbook. Alaine is to be applauded for his work in bringing a great piece if software to the bike world – for free. So I feel uneasy writing a negative review of the App, but in the end I've tried to be as honest as I can about its abilities with regards to the Caponord. Maybe it's having far more success among the Triumph fraternity, I don't know.