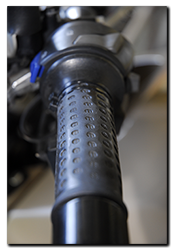 I can't believe that the Aprilia heated grips have been on for 5 years, boy how time flies! Over that time they've worked perfectly and I can't justify replacing them any time soon. What I do need to do however, is replace the rubber grip as the originals look tired and are well worn. In truth, they could probably last another year or two as they're not split yet, just look worn. And I don't like my RR looking shabby!
I ordered a set of Ariete 02624/L grips from Caprimoto here in Italy and they arrived within 24hrs, fantastic. They cropped up on a thread on the AF1 forum a few months ago as a viable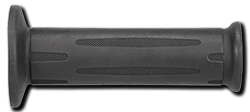 alternative, as the Aprilia ones appear to be unavailable except as a complete unit. I've written about the fun and games of grip replacement  and thoughts on upgrading the original Aprilia heated grip elements in a separate page. Click here.