After 8 years the Shoei Multitec is no-more …. Well in truth, more like eased out to pasture rather than to the knacker's yard. I could wax lyrical all day about how good this helmet is, but what for? Rave reviews and testimonials abound on the internet.
Back in 2006 after an abysmal acquaintance with a Shuberth C1-Concept, the Multitec was a breath of fresh air and for the first few years it was in constant use as my No1 motorcycle-Instructing helmet, fitted of course with the ubiquitous Autocom noise-cancelling headset that matched perfectly. By my Excel spreadsheet (diary), since then we've covered a little over 150k+ miles together – and that's not a bad life-span for a lid! Ok it's collected a couple of scratches along the way, mostly around the shield release button, but it still fits well enough and a new whisper-kit and visor from Jim at AMI will have it looking as good as new again as it takes on its new part-time role of GoPro camera mount!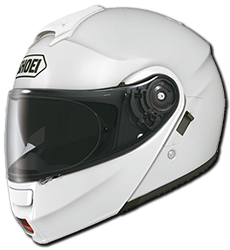 But the fact of the matter is, it has now been replaced …… by a Shoei Neotec. This is a wonderful gift from my loving wife Janet for my 51st birthday and I'm as pleased as punch, its brilliant – Cheers Jan!!! The experience of the Multitec meant that its replacement would inevitably be a Shoei; the decision was whether it would be a direct replacement with another Multitec or go for the 'new' Neotec. In the end, trying to find a Multitec in the right colour/size proved too problematic*, plus they would probably be old stock by now and as such may have a shorter warranty – Shoei say 7 years from date of manufacture or 5 from date of purchase whichever is the shorter. So after scouring the internet for New-Year bargains, a Neotec in white/medium was ordered from automotoracing.com. From order to delivery in Italy was only 4 days – excellent price & service. Unfortunately the dismal weather we're having has made it hard to get a good ride-out with it! Having said that, even the few short rides tell me that it was the right choice – think of it this way,  rather than a new piece of kit, more an old friend with an impressive make-over!
Now if the incessant rain, land-slides and generally dismal start to 2014 would just toddle off for a bit ……………
*Although shown on the European website, the Multitec is not in the 2014 Shoei catalogue.