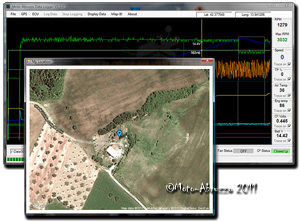 A tickle round the mountain, five logged files and two and a half hours of logging later …. it's no longer a work in progress, it's a runner!
It may only be a couple of weeks ago that this little project kicked off, but for the life of me, I can't quite remember why I started, or in fact where I really thought it would lead. So I guess this is most definitely a natural end to this part in the development cycle. It starts, stops, logs and displays more than I originally intended. I guess there's nothing more to do except get logging!
As for the other stuff on my wish list ….. well the aquisition of external info such as speed
(measured not GPS), brake line pressure and gear position may well be handled by this little device. 8 x 5v analogue inputs should be fine … all looks fairly straight forward in the instruction book anyway. We'll see!
So what have I learned from the data so far? Firstly, the air intake temperature is a fairly consistent 15ºC above the ambient air temp at all times – higher when the bike's in stop-start traffic ….. all very power-sapping. Secondly … truthfully there isn't a secondly just yet, but what I'm interested in looking at on the next couple of runs, is the barometric (air pressure) data. It's measured in the airbox and with the restrictive 'snorkel' in place I'm expecting to see a drop in pressure at high RPM/throttle opening …. but will the data bear this out? And how much will it fluctuate by?