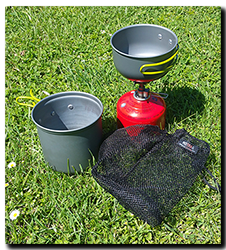 Maybe I'm a tight git or just a fussy bugger, but when I'm on the road I like a mug of tea (or coffee) my way – not some overpriced bucket of gut-wash served up at Costa-Bucks on almost every street corner and in every motorway services. If it's a short trip I'll take a flask, if it's a biggie I take a Trangia … or at least I did!
I've been using a Trangia for donkeys years …. they're reasonably compact, easy to set up and heat predictably although there is a definite knack to setting the flame adjuster if you don't want cooked fingers as well. The wind shield does a good job and the whole thing is well planted and has a low center of gravity to keep it stable – in other words well designed.
So when Manuel at Motrag asked me to try out the cooking kit and gas burner he sells through his website I must admit to not being 100% enthusiastic. I like my Trangia. Anyway since last summer I've used his setup and have to admit (begrudgingly! 🙂 ) it does have some distinct advantages and to be fair the shortfallings are easy to work around.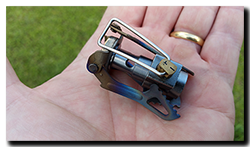 The burner is a work of art! Very small and very powerful. Back to back tests between the gas burner and the pre-heated Trangia had the 0.6L kettle boiling in 4 minutes and 8 minutes respectively, so it certainly has some punch to it and of course using a gas canister is far less messy than using Methylated spirit. The gas canister and burner pack away into the two halves of the pot kit (2x pots – 0.4L & 0.8L) and this in turn packs away into a neat bag. Overall the Motrag kit is 155mm high x 125mm diameter – approx. 1.9L volume and weighs in at approx. 540g INCLUDING a full gas canister. In contrast the Trangia 27 (2 x 1L pots, 0.6L kettle & frying pan) is 100mm high x 185mm diameter – approx. 2.7L volume and 880g in weight EXCLUDING fuel, certainly making the Motrag set more pannier/top-box friendly if space is a premium.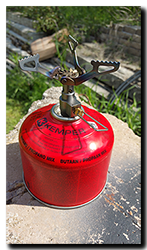 What are the down-sides of the Motrag kit? well the gas canister is approx. 10cm diameter in comparison to the 18cm of the Trangia, also the height that the pan sits is 14.5cm in comparison to the Trangia's 11.5 (lowest) making it more unstable and definitely needing firm level ground to work on. Add to this the fact that the Motrag burner is a small diameter with no support means that pans/kettle have to be placed very carefully or they fall/slide off the side – been there, done that! Finally the lack of a wind shield makes it awkward to use on a windy day – most days in Northern France it seems!
However there is a work around for both issues. Firstly it isn't rocket science to design (and 3D print) a fold-way set of legs to hold the canister base and increase its stability, secondly a cunningly cut tin-can is used as a slide-down wind shield for the pots and seems to work just fine!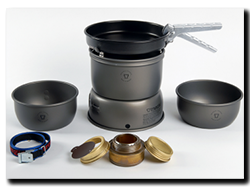 So …. bottom line, will I keep using it?
Yes definitely. For solo trips it suits me down to the ground, it's compact, clean and neat. The burner is just absolutely awsome – I swear you could spit-roast a whole hog with it! 😀
However when two-up I think the added flexibility of the Trangia just pips it and so it'll still be my stove of choice for those trips. What I really don't like about my old Trangia is the residue where the raw aluminium rubs together – however they do a nice hard anodised (27-6HA) version with none-stick pan – luxury! So that'll be on the shopping list this year I recon! 😀
A huge thank you goes out to Manuel at Motrag for sending the kit for review – cheers fella!