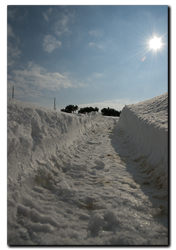 The first storm hit sometime during the Thursday night, the 2nd of February. We woke to the usual picturesque scene, the one that makes you go 'ahhhh', then run for the warmth of the kitchen and a hot mug of tea. All day it swirled and battered home and countryside, nothing flew, trotted, hopped or drove that we saw.
At approx. 17:30 our ethereal internet and phone connection to the world outside was unceremoniously cut. Nothing but a deep unwelcoming silence, while the storm raged a little harder just to emphasise our isolation a little more. Over the next 11 days we were to be subject to more snow and blizzards, periodical broken by a splash of sunshine. The first break in the weather gave me a chance to try for the main road ….. two days and three sessions of digging saw the Rangey finally hit tarmac. On Wednesday the 8th, I pulled a sled with Jan's suitcases up to the old house and the waiting car. We had an uneventful trip to the airport, where I sadly waved Jan off to the UK. Now it was just me and a bunch of hungry animals, time to do some shopping on the way home. Stocked up I drove back to the house and parked the Rangey up in the driveway thinking the worst was now over.
The blizzard that started the following night was as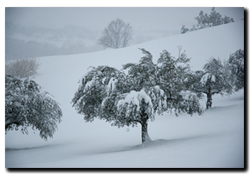 unexpected as it was intense. 36Hrs of  battering  by raging turbulent wind and unrelenting snow … the road disappeared completely under undulating drifts over two meters deep in places, while upstairs windows vanished as the snow clung onto the strained roof below.  Once again, the Rangey had to be helped out on a couple of occasions, but I can't complain when it only gets stuck in snow that's deeper than the bonnet!
On the afternoon of the 11th day, the phone and internet came back, our little slice of Italy was neatly plugged back into the daily routine of planet Earth.
What's the old saying ….'stop the world I want to get off'? We did for a while, but it sure is nice to get back on again!
So a couple of quick phone calls to let people know I'm doing fine and catch-up on current events. Seems the whole region went dark that Friday night when a tree down by the river, unable to cope under the weight of snow took out the main phone line.
Oh, and one last thing ……. ever heard thunder during a blizzard? I hadn't until now, seems the snow attenuates the sound so you only hear it when its less than a mile or two away. And its official name – thundersnow!