Scroll down for the video!
It's been a couple of months since I posted an update on the 'Moto-logger', mainly because other than using it, I didn't update it! During that time notes and thoughts of improvements to the layout, function or stability were scribbled on bits of paper and sprinkled around the PC, waiting for a rainy day.
Last week it rained.
So here's a screen shot of V1.7, now with a left-hand side bar and two selectable displays. One for the raw GPS data being received and the other ( a bit of a gimmick admittedly) is a 'fuel calculator'. The Capo doesn't register road speed in the ECU unlike the Triumph's … so it made me wonder if it were possible to calculate fuel usage and tank contents from GPS data and the pulse width of the injectors – the duration the injector is open and passing fuel to the engine.
So here it is .. and it works. Well the needles move, the numbers jump around and the LED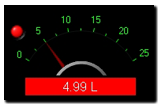 blinks with 5 litres remaining, so hey, it's a runner! Clicking either gauge resets the calculators and 'fills' the tank to 25 litres. Turning off the bike/software doesn't lose the calculations either, so taking a quick road-side slurp of coffee doesn't mess up the figures. Happy days indeed!
V1.7 Improvements
Calculate MPG and tank volume remaining

Calculate Air Density

Calculate corrected EC80/1269 power output based on barometric pressure and air temperature.

Display received GPS sentences 

Display and log GPS time

Cleaned up the code (ish!)

Took out some bugs and improved stability.
Still to do …
Learn more and improve the code efficiency!
Add better file handling to prevent overwrites and crashes when calling a missing data file
Add a 'Range' …. miles to go, to the calculator (yes another gimmick!) –

Done!

Temporarily log pulse width. I want to see a snapshot of what its range is. –

Done!

Real-time plot display? –

And done!!
[kml_flashembed publishmethod="static" fversion="8.0.0″ movie="https://www.moto-abruzzo.net/wp-content/uploads/2011/11/Moto-logger5_controller.swf" width="640″ height="378″ targetclass="flashmovie" quality="best" base="https://www.moto-abruzzo.net/wp-content/uploads/2011/11/" fvars="autostart=false;thumb=FirstFrame.png;thumbscale=45;color=0x1A1A1A,0x1A1A1A"]

[/kml_flashembed]