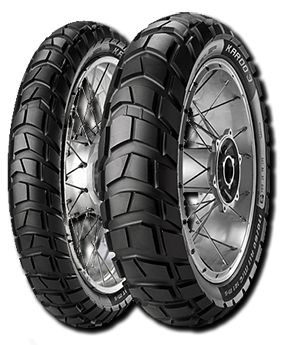 With the michelin Anakee 2's now nearing the end of their lives, it's time to think about the winter boots the Capo will need to wear. True, the trusted Continental TKC80's are reliable and on hand, but I fancy trying something different for a change. That's when I saw the new Metzeler Karoo 3.
Like the TKC's they are most definitely off-road biased but (so say Metzeler) with superb on-road ability, long life and low noise/vibration. So with extensive experience of the TKC's on which to make a comparison, they will need to do the following at least:-
5k miles rear / 7.5k miles front
Excellent wet & dry grip on road
Low noise & vibration for over 80% of their life, especially the front
Good self clearing in soft mud
If they can achieve that and more then I'll be one happy bunny, especially as they're retailing at approximately 20% (rear) and 14% (front) cheaper than the TKC80, which lets face it, has never been a cheap tyre anyway.
I think I'll run the Anakee 2's a while longer as they still have sufficient life, although the front is now noticeably more 'twitchy', especially at low speed. No doubt due to the cupping on the blocks. Meanwhile I'll search for the best deal on the Karoo 3 and post a pic or two when they arrive.