It's 24hrs since the Capo and I arrived home from our 3,500 mile, three week trip to the UK and bits of me are still aching in new and novel ways. It's not the Capo's fault, the day after the trip over to the UK I was up and running around like a spring lamb with a caffeine boost. The return trip was different though, maybe not enough rest prior to the trip, I don't know. I felt fine throughout the ride, just tired when I arrived. The next day was a different matter. My old right wrist injury, dormant for the past few years, decided to make itself known by swelling nicely and hurting like hell. So I named it 'Paracetamol Monday' in honour.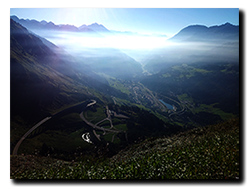 The trip went like a well-wound Swiss textbook, the Capo averaged 48mpg with a gold medal peak of 51mpg and a bronze medal low of 45mpg on the homeward leg – nice.
The tyres (Michelin Anakee 2) are wearing brilliantly, now with 7,500 miles under them, they still have 2.8mm front and 3.6mm tread left to the 1mm wear limit, that's 25%/45% part worn from new. At this rate the projected life is well in excess of 12k for the rear, unbelievable. The amazing thing is that with so much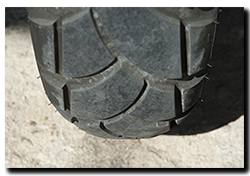 profile-killing motorway work, they haven't started to square-off, only the front shows early signs of 'cupping' on the rear edge of the central blocks. On paper, tyres that last this long and hold on to the profile would be so hard as to have sod all grip – not the case with the Anakee's ……. have I really stumbled on the nirvana of long life and high grip in these tyres? Looks like it!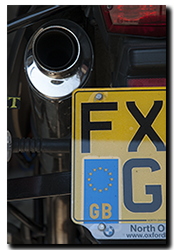 The trip was for multiple reasons, friends, family, a little rider training and not least because I'd decided to return the bike to UK registration. I couldn't believe how quick and easy it was. One MOT (cheers Dave Clarke Motorcycles – Oxford), Insurance cover and one simple form. Pop into the local DVLA office and 10 minutes later and just over a hundred quid lighter I had a tax disk and a V948 authorisation certificate so I could go and get a number plate made. I had this done by North Oxford BMW (thanks Matt) as they could do it with the 'GB' logo.  The day I was leaving the V5C registration document turned up to complete the set, so FX**G** and I were good to go.
So by the statistics on 'howmanyleft.com' there are currently 6 Rally-Raids declared SORN (off road) and 9 taxed and presumably rumbling around our fair green land …….. as of 2012 Q3, make that 10 on the road!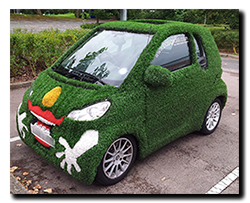 Finally a few thank yous …….. Jan for holding the fort and doing an amazing job, to Jim at AMI who again managed to keep me topped up with some CBT & DAS rider training, to Lucy and Emidio my in-laws who looked after me, the chap who parked the grassy-Smart car and last but not least there was to be a sarcastic 'thank you' but Jan censored it! Damnation ……