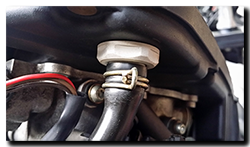 One niggle that has wound me up more than anything about the Capo over the years, is its unerring ability to regurgitate oil into the airbox – apparently no matter how much or little I fill the oil tank. In the end, enough is enough, time to do something about it.
So this is it, remove the molded spigot/structure into the airbox and replace with a new low-profile 90° coupling and pipe to dump regurgitated oil into the front section of the airbox, from where it can be drained off via the extended drain-line down by the oil filter. Hopefully no more lumpy idle and intermittent 'cough' coming off idle after extended (12Hrs+) runs at motorway speeds from the vented oil draining down into the throttle bodies. A better fix of course would be to build a trap before the airbox that would allow oil to drain back the way it came while still passing vapour into the airbox. That'll wait until winter, for now I'm hoping this will work good enough.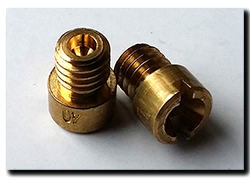 Secondly, and I don't mind admitting when a change to the Capo doesn't work – I've gone back to the #60 clutch oil jet from the #40. Why? Simply because the benefits were outweighed by the losses …… yes the #40 jet made the initial 1st gear selection go from 'CLONK' to 'clonk' but it also buggered up all subsequent gear changes, gone was the silky smooth shift that I'd had with the #60 jet. In the end I would say that if your Capo shifts gears smoothly and doesn't have an issue selecting Neutral, then leave well alone. I'm sure for those with no jet, a blocked jet or a nasty gear shift this may well be a worthwhile modification, for me I'm glad to have the old slick-shift gearbox back again.