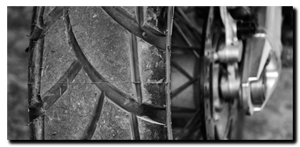 Well, after four years and a steadily deteriorating road, the authorities have seen fit to scrape and widen our road in readiness for a nice topping of something-or-other. For the past three years I've been running the Continental TKC80 off-road biased tyres, simply because they were the only sensible choice for such a poor road ……. and it's the only road I have to reach civilisation!
The downside was a tyre that wears quickly and is expensive for its type. Don't get me wrong, it's not a bad tyre …. quite the opposite, it handles far better than its chunky knobbles would have you believe. It just wears away quicker than a kids crayon at motorway speeds!
So the choice has been to replace the worn out TKC80 rear in anticipation of the road improvements and an impending trip to the UK, or add a few more shekels to the pot and change both tyres to something road-biased. Hmmm ……. Michelin Anakee 2 here we come!
For the princely sum of €230 I get two tyres nicely fitted and new valves thrown in as well. I checked the manufacturing dates (2611 & 2911) – they're so new they're still hot from the oven! The rims get a spruce up and all the bearings and seals are good to go.
So what is the first impression? Truthfully …… a mix of disappointed and impressed! I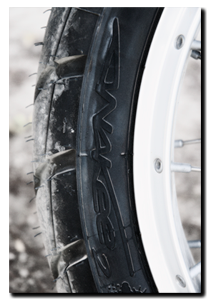 guess I was expecting a major 'wow' moment when I hit the road, but no, the bike tracked as usual and is no quieter than usual. Frankly it doesn't feel any different … or does it ….. well it turns in a little quicker and seems to hold it's line better ( no 'walking' on the knobbles!). But I guess I expected more. OK, the tyres are new and need fully bedding in.
But I think I looked at it the wrong way round … it isn't about how good the Anakee2's are, it's about how good the TKC80's were! That's the point. I'm sure that as the Anakee's bed in, they'll shine through … greater grip at higher lean, a longer life and improved wet-weather grip would be most welcome!
Bottom line, I'm looking forward to the miles ahead and seeing how the Anakee 2's work out. As for the TKC80's, would I go back to them at some point in the future? Without a doubt!
Tread depth @ TWI (Tyre Wear Indicator) – 0 miles
Front: 3.7mm              Rear: 6.5mm
After 3,096 miles – still excellent profile.

Front: 3.3mm (11% wear)   Rear: 5.1mm(21% wear)