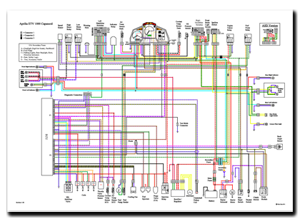 It's not often these days that something really useful comes along, but Chris Elms has pulled one out of the bag! He recently popped over to the AF1 Caponord forum and quietly dropped off two wiring diagrams. Nothing new you might think – we've had wiring diagrams with the workshop manuals for years.
But these are different, in all the right places …. Chris has reworked them with all the wires now in color, extra technical details added and above all – layers!  The ability to select or deselect sections of the wiring loom, making
it much clearer and easier to trace specific wires. That feature alone is worth a King's ransom, absolutely brilliant. You need Adobe Reader to open the files (PDF) or a program cabable of opening that file type. If your browser is able, view the standard or ABS versions here, or download them from the menu bar.
Chris has kindly given Moto-Abruzzo permission to host his wiring diagrams. Thanks again Chris!!